I am so thankful that I can be at home with Cade, seeing everything new & experiencing all of his firsts... that said, I've come to the realization that I'm quite the expert at entertaining a 4 month old! He laughs at all of my jokes, all of my funny voices & funny faces. He is definitely my number one fan!
Today I thought it would be a good idea to get down in the floor with Cade and take some pictures of Mommy & Baby together, having fun.
Laying in the floor, smiling nice for the camera:
Another good shot of Mommy & Baby:
I then realize that Cade has a handful of my hair! The kid has quite a grip!!!
He had me laughing so hard when he started trying to EAT my hair! How could you not laugh at that face?!?! He was determined to eat hair!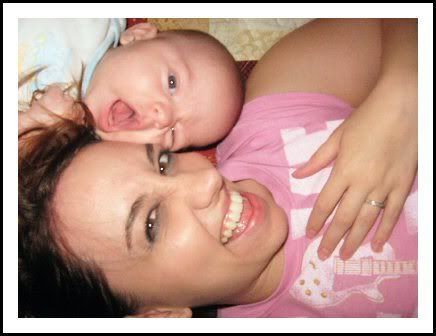 All of that cuteness deserved a KISS!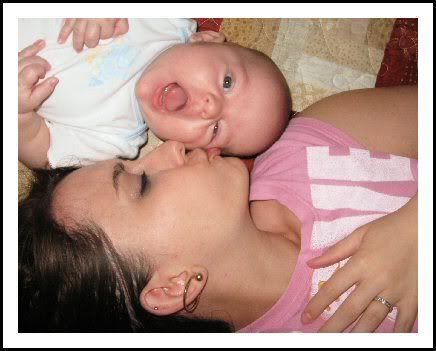 I guess he thought *I* deserved a kiss to!
So I turn around, with an attempt to try to get another good shot...
And look who joined us! Brodie!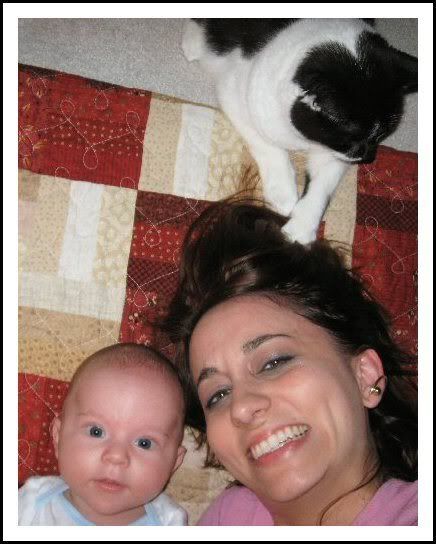 MOMMY, THAT WAS FUN!!!