Cade
is 3 months old today! To celebrate, we had a photo-shoot in our living room.
Cade
wore his favorite teddy bear overalls... so cute.
He is really smiling BIG lately! His whole face lights up!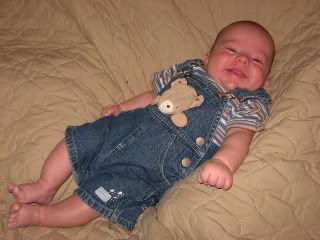 I love this look... this is how he looks at me when he's playing in his crib in the mornings... his face is so full of wonder & curiosity.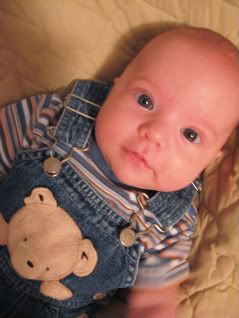 Three months have gone by so fast. It's amazing how much he has changed in such little time. He has gone from a tiny little
handful
to a chunky
armful
! I'm so happy at his progress so far.
Coo'ing

& "talking" all the time!
Has giggled a few times... which always gives him the hiccups!
Great head control... but not exactly perfect.
Starting to find his hands... and his thumbs.
Recognizes faces & voices.
Starting to sleep through the night... for 6-7 hour stretches.
I'm also amazed at the schedule that he has literally put himself on! I have been following his lead, let him do his own thing, and he is now on a "kinda" schedule.
Wakes at around 7:30 or 8:00 a.m.... and not always because he's hungry... I usually find him in the crib, wide awake, playing!
Eats at 8:00 a.m.
Naps from about 9:30 a.m. until 12:30 p.m.
Eats and stays up to play awhile.
Naps from about 2:30 until about 5:00 p.m.
Eats and stays awake for awhile... it's during this time that we take a bath, play, and sometimes he will sneak in a cat-nap here or there.
Eats some cereal & takes a bottle at around 9:00 or 10:00 p.m. and goes to bed for the night.
Wakes up to eat anywhere between 4:00 a.m. and 6:00 a.m.
Goes back to bed until 7:30 or 8:00 a.m.