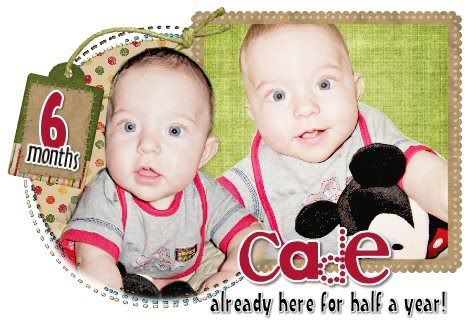 Cade is 6 months old today. It is hard for me to believe that half a year has already gone by. Where has the time gone? Seems like just yesterday, I was wallering in our black leather recliner, huge & uncomfortable, with my 2 regular pillows, one body pillow and heating pad... and don't forget the quilt, since I seemed to freeze during my pregnancy. And then we were off to the hospital and no more than 4 hours later, these people dropped a bundle into my lap, expecting that I knew exactly what to do with him. We have come a long way in 6 short months! As a mom, I have learned to trust my instincts... I have learned that I'm not perfect, and quite frankly, being perfect is impossible... and most importantly, I have learned *most* of the words to every lullaby imaginable. Cade too has come a long way. He has more than tripled his weight since we brought him home from the hospital. He has gone from needy newborn to a baby that thrives on a schedule. And he has gone from waking every 3 hours during the night to sleeping 12 hours straight (well, most nights... we won't count last night!) He loves eating with a spoon -- we are eating Stage 2 foods right now, 3 times a day! He is sitting with some assistance, rolling in both directions and his hand coordination has really improved.
Happy 6 months Cade Lucas! Mommy & daddy love you so much, and we love watching you grow & change right before our eyes... you are so sweet and so smart.
When we went to Walmart yesterday, Cade picked out his "6 months present" :) He got a Mickey Mouse beanie! I held him up for Cade to see and he grinned & kicked and got excited -- he LOVES Mickey Mouse Clubhouse on Playhouse Disney... I thought it was funny, he seemed to "recognize" Mickey. Here he is with his new friend!